The solution is based on LTE technology and B-TrunC broadband digital trunking standard. LTE supports flat network architecture and the control plane and user plane are separated, which can reduce the system latency and promote user experience. The solution provides broadband multimedia services such as bidirectional voice calls, professional voice and multimedia truncking services, high-speed data, HD video services. The system has strong expansion capability to connect with the third-party application platform and PSTN or IPPBX.
Trunking group channel sharing on LTE air interface enhancement and B-TrunC technology further improves the capacity of single group users, and reduce the time delay of group call establishment and preemption of voice right application. The solution is suitable for the application scenarios with high requirements for high real-time voice and video dispatching command communication and large scale of user capacities.
1. Typical network architecture
The B-TrunC system follows the standard LTE network architecture and consists of wireless access network, Core Network and terminals. The system can provide wireless broadband data channel to connect command center, data center, office automation platform and other internal communication system to build highly integrated and unified command and dispatching platform.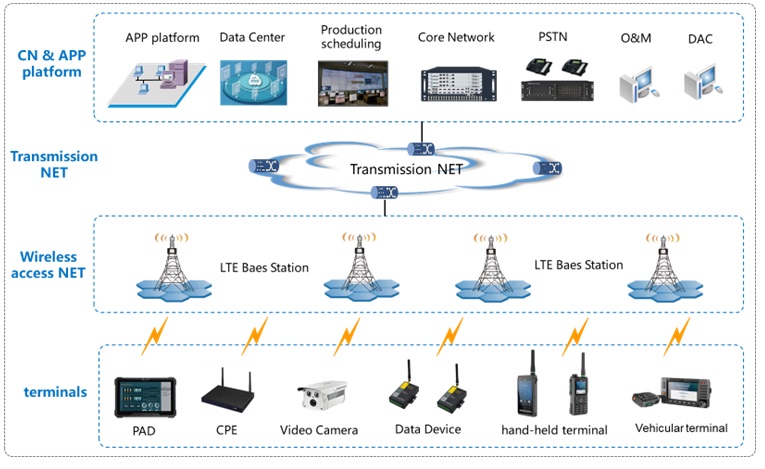 Network architecture diagram of LTE broadband trunking
2. Highlights
a) Professional digital trunking technology
The solution conforms to B-TrunC professional digital trunking standard on LTE technology. It has the characteristics of high-speed data rate, high spectrum efficiency, low group call time delay, QoS mechanism, high reliability and security.
b) Carrier-grade platform
All of EPC Network Elements and B-TrunC functions are integrated inside the trunking Core Network equipment to provide highly converged Core Network solution. The solution is based on carrier-grade platform of all IP architecture and modular large capacity software structure, and meet the carrier-grade reliability requirements of running in 7*24 hours continuously.
c) High capacity design
The Core Network and Base Station adopt large-capacity design. The Base Station supports dual-carrier function to promote the wireless access capability and the data throughput of Core Network exceeds 5Gbps, which meets the needs of large-scale networking, large-capacity users capacity and high-speed wireless data communication.
d) Rich services and functions
The solution can provide professional digital trunking functions including voice/video trunking services and other multimedia dispatching services, so that the command HD can learn the onsite real-time dynamic information. The Core Network supports standard IP interfaces to connect to third-party application platforms and provides powerful expansion functions.
e) Diversified terminal types
The solution supports diversified terminal types including intelligent handset and vehicle-mounted terminals, CPE data terminals, etc. The handset and vehicle-mounted terminals support professional truncking functions and DMO direct intercom function. The terminals conform to industrial standards, and have high reliability and high Ingress Protection level. The terminals are suitable for all kinds of harsh industrial application environment.