5G application for innovative energy is based on end-to-end 4G/5G products including all-in-one 5GC, integrated 4G/5G mine explosion-proof Base Station and terminals. The solution provides 4G/5G wireless broadband network covering both the mine well and underground. The solution makes full use of 4G/5G technology to provide VoLTE/VoNR call service and low time delay and high-speed wireless data link to realize industrial unmanned control and other intelligent applications. The 4G/5G private mine network can connect to telecom operators' 4G/5G network to provide the consistent 4G/5G service experiences both in the mine well and underground. The purpose is helping the energy industry be enabled with 5G.
1. Solution description
The integrated 4G/5G mine explosion-proof Base Station supports the frequency band of telecom operators and cover the underground areas. The 4G/5G public network already built by operators provides wireless signal to cover the whole areas on the ground. The private all-in-one 5G Core Network connect to the operator's 4G/5G Core Network seamlessly to realize one private network on the ground and underground. The local data flow can be unloaded by private all-in-one 5G Core Network, which can fully protect the data security and privacy of mine users because the data doesn't leave the mining area.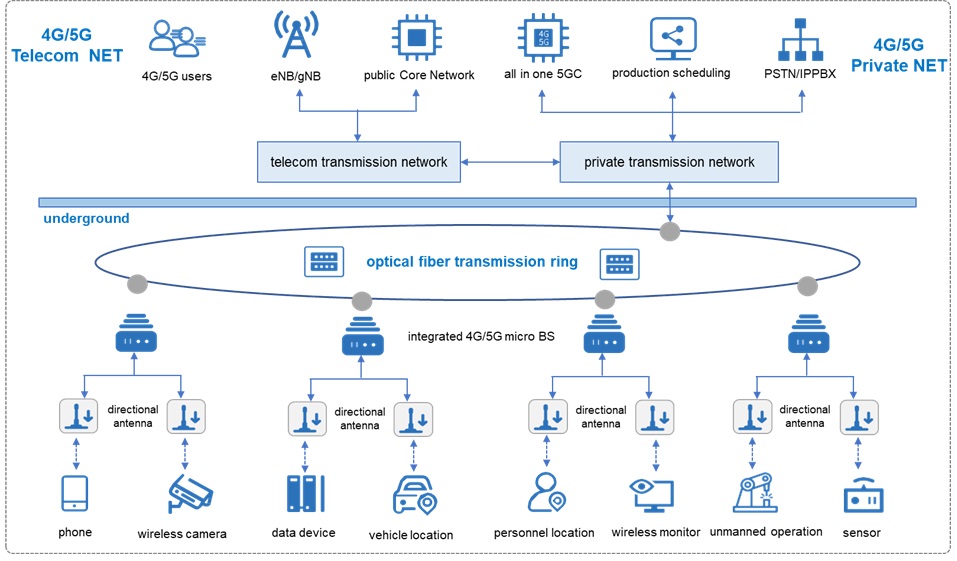 Network architecture diagram of 5G mine
2. Highlights
a) Converged communication and dispatching
All of the 4G, 5G or IoT (Internet of Things) users can access the network. It can implement the communication and converged dispatching between fixed-line telephone and mobile phone. The 4G/5G private network meets the requirements of dispatching among various types of work in underground mines, as well as collaborative work and unified production scheduling between ground and underground.
b) One network, the same SIM card and phone number
The mine private network supports a seamless connection with the operator's public network, so that private network users do not need to change their mobile phone SIM card and numbers both above and below the mine. It realized non-differentiated experience of voice, SMS and data services between mine private network users and public network users.
c) Rich services and functions
It supports rich services and functions such as VoNR/VoLTE HD voice calls and video calls, real-time wireless video surveillance, UWB precise positioning, industrial unmanned control, production data collection and industrial IoT.
d) Long distance between stations with high throughput
The mine explosion-proof 5G Base Station has integrated baseband processing and RF functions, complies with intrinsically safe & explosion-proof certification standards, supports 4T4R channels. Single Base Station can achieve ultra-long distance coverage underground and the station distance of underground can reach 800 meters. The peak data throughput of single Base Station can reach more than 1.5Gbps.